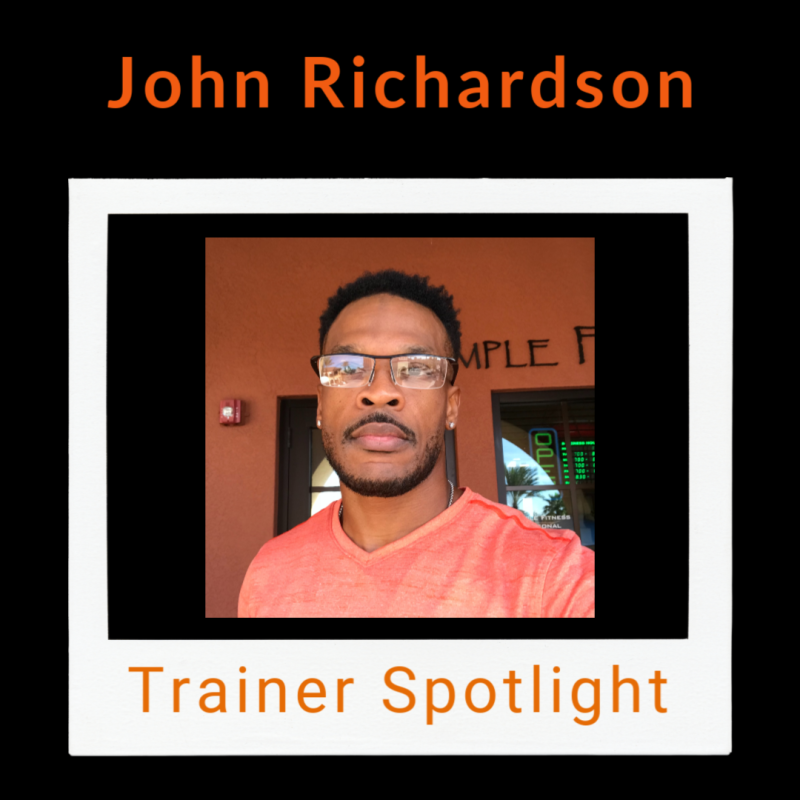 John Richardson is an NFPT Certified Personal Trainer, an NFPT Master Trainer, and owner of Temple Fitness in Bradenton, Fla. John first caught my eye on Instagram, posting lots of impressive programming and workout videos. I checked out him out on Facebook and when I saw he had obtained at least 13 fitness certifications in his career, I knew he was the real deal.
His training philosophy revolves around living a total fitness lifestyle, which connects your mindset, spiritual being, and physical body. According to John, and the inspiration to the name of his business, you only get one Temple (body) in this life, and the way you take care of it most of the time will determine the way it takes care of you!
Here's more about John in his own words:
How long have you been certified with NFPT?

I have been certified for 10 years by NFPT and prior I was personal and group training for six years.
Why did you choose NFPT?
I chose NFPT because I thought they were the best at simplifying the basics of what was necessary to help you become a personal trainer. When I say simplify, I mean breaking it down so anyone can grasp the fundamental concepts of fitness and programming.
Why did you decide to become a personal trainer?
I decided to become a personal trainer because I really wanted to understand the science of fitness for myself and others. I was frustrated with the misinformation I had read in the muscle and fitness magazines, including quick fixes for health, and misleading advertising of supplements.
What has been your biggest challenge as a personal trainer?
There are several! To stay abreast of the constant expansion of information and science about health, fitness nutrition, and the mind (psychology) and successfully applying it to each client to help them reach their respective goals is really difficult.
What has been your biggest accomplishment in the fitness industry?
I think for me first is being in the fitness industry for 6 1/2 years successfully running my own business. However, I really don't think I have achieved my biggest accomplishment in the industry as of yet. I do know that it can take years of constant self-improvement and ambition in this business to get genuinely recognized. Even still, I'm not looking for recognition from the industry. I'm more concerned about changing and affecting the lives of the clients that have been entrusted to me.
What has been your most rewarding experience as a personal trainer?
To see my clients change their lives has been the most rewarding experience. Thinking more about what they eat and how it affects their bodies, and also learning how living a fitness lifestyle wards off disease strengthens the immune system. Seeing the smiles on their faces when they see how their bodies have changed, how they get off of medications like high blood pressure, even insulin. So yeah, witnessing these moments are the most rewarding.
Learn more in our Functional Training Specialist as a part of our Continuing Education Course Series.


What role does social media play in the success of your business?
I think social media plays a very big role for me as well as others, although I must say personally that I have not utilized social media to its fullest extent. Clearly it's the way to self advertise, market, and brand yourself. With a little ingenuity, a good camera, and knowledge you definitely can attract new clients as well as build your business and a following.
How has the impact of COVID-19 and its restrictions affected your fitness business?
I guess I've been blessed. I've actually gained several clients during these trying times for us, also with more still signing up. This may come off as being odd when so many businesses have suffered, but it's been good for me and my business model.
Any advice for people thinking about a career in fitness?
The advice I have for people thinking about a career in fitness is to make sure you are truly prepared for a career in fitness. It takes a lot of different qualities and abilities to have a long stay in this industry. I will leave that up to them to figure that out.
What does the future hold for you in the fitness industry?
I hope to have a long career in the fitness industry, yet understand the fitness industry and personal training is two different things. Personal training can definitely be a long, long, long career. It involves changing peoples' lives, getting people off of medications, steering people towards a healthy lifestyle, a fit lifestyle, saving peoples lives, opening their eyes to the fact that fitness, nutrition, mindset, and exercise are the keys to really unlock their bodies potential to have a long, productive, healthy and independent journey in life.
I'm very optimistic about the fitness industry, I believe it's going to become a leading industry, that all things will be tied to fitness, wellness, nutrition, health, and mindset. In fact, if you really look around you can see it already happening. The COVID-19  virus actually helped shed light on this. It brought it more to the forefront, that a strong healthy body can fight off anything.
Anything exciting you'd like to share?
Yes, I do have something exciting to share. I always like to thank NFPT for giving me my start. Currently, I am preparing to take my NASM Master Trainer courses, and am also taking a few others. I believe that in order to be successful in the long run in this industry as a personal trainer you have to thoroughly and continually educate yourself. Thankfully for me, being a bookworm helps!
---