Is the ketogenic diet another high protein, low carb diet? Not exactly. Join us for this episode of NFPT Live to find out what you need to know about this 2018 health and fitness trend.
In this episode we talked about:
What is keto, ketogenic and ketosis?
How long it takes to get into ketosis
Who the ketogenic diet is appropriate for
Foods in the ketogenic diet
The role of body awareness in "dieting"
Why the ketogenic diet can be harmful
Some of our viewers said:
When I was doing keto I ate broccoli, eggs cooked in coconut oil and almonds.
"Too many people count carbs, and not chemicals"-Someone once said
Interesting topic, thanks!
I have tried a Ketogenic diet and found even though I was eating a caloric deficit I was not losing weight. I feel that some people don't respond as well as others. With me I feel that I need to restore my glycogen stores with a moderate amount of carbs or I trigger a starvation response.
NFPT Live Episode #26
If you're an NFPT trainer, join the Facebook Community Group to chat with other trainers.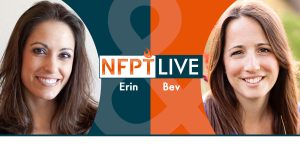 Next Week: Episode #27 – Five Steps to Setting New Years Goals
Subscribe to our Live Show on FaceBook to get updates when we're on or mark it on your calendar so you remember to tune in. We'd love to have you on the show Wednesdays at 9 am PT, 10 am MT, 12 pm ET.