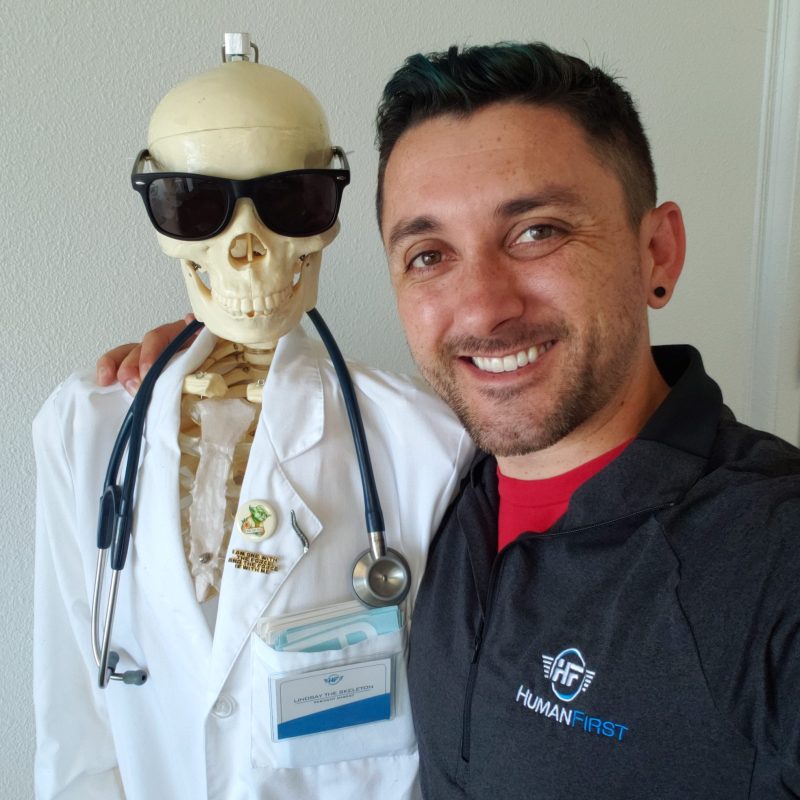 This month's Personal Trainer Spotlight showcases one of our own blog authors known for such riveting articles as Teens Growing Horns and 3 Best Shoulder Warm-ups. Dr. Patrick is a sports chiropractor practicing in the beautiful Pacific Northwest, and I thought it would be grand to highlight a health professional who became a certified personal trainer to support his primary career path. His clinic, HumanFirst Health and Movement, specializes in chiropractic, soft tissue work, and rehabilitative exercises for athletes and non-athletes alike. Dr. Patrick's passion is empowering others through education and treatment.
Dr. P is vivacious, light-hearted, and brimming with empathy, but none of these personable qualities detract from his impressive intellect that comes across clearly in his writing and through his voice. Learn all about him and why it's a great idea for health professionals to complement their higher education degrees with a personal training certification.
How long have you been certified with NFPT?
It's been a year now!
Why did you choose NFPT?
I was persuaded to try NFPT's personal training education through one of NFPT's educational directors and the former blog editor. Beverly Hosford and I had known each other for years and worked on numerous educational health-based projects together. As with all of my favorite colleagues, we always would check in with each other to see where life was taking us, as well as pick each other's brains on the latest and greatest in fitness and health. My journey with NFPT has been an extension of that relationship and I am very grateful to her for showing me the wonderful educational environment that NFPT had to offer. This is why it's so important to have a good network of colleagues to lean on and support!
Why did you decide to become a certified personal trainer when you're already a Chiropractor?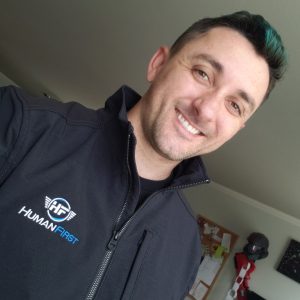 I've been active most of my life – everything from martial arts, to soccer, basketball, racquetball, parkour, capoeira, archery, dodgeball…the list goes on. Pairing that with my skills attained through grad-school (earning my D.C.), along with my background in kinesiology, I felt I was mostly there. So I got the books, brushed up on some rusty knowledge, and took the tests! (The practice tests on NFPT.com were invaluable!)
All this happened while I was building out the location for my new business, so it helped keep me focus on aspects of rehab. Currently, rehab exercise and movement therapies are about half of what I do on a daily basis in clinic. I think the personal trainer certification has both directly and indirectly helped my patients in that my communication skills, workout flow, and technical knowledge of biomechanics and physiology have all been informed by the cert.
What is the biggest challenge for you as a personal trainer and health professional?
Staying motivated is tough. Keep a buddy around to keep you accountable! The hardest part of what I do is not taking notes, diagnosing, designing custom rehab plans, or shouldering the hopes and dreams of clients. Rather, the biggest challenge is not having another colleague there to share it all with and to inspire each other. This another reason why the NFPT community and writing for the blog has been so great!
What is your biggest accomplishment in the fitness industry?
Ahh – this is yet to have happened! Two big plans as of right now – I'm working on manufacturing an ergonomic pillow (patent pending!) and also have plans to develop a movement system. The movement system will fill the huge gap in performance and recovery, and be helpful for practitioners and lay public alike! The goal is to give people some simple and conservative movements that they can do (almost anywhere) to stop the bigger musculoskeletal concerns before they happen. All based on my work in clinic and stuff that my patients over the last 3 years have already successfully integrated into their lives! Stay tuned!
What has been your most rewarding experience as a health coach?
The more knowledge you have, the more tools you have to address any given problem. There are a lot of problems out there that can be addressed easily with a little time and expertise. My favorite experiences are when I feel fully equipped to handle a problem that others have tried and failed. The look on a client's face when you change their lives with that expertise is priceless and fills me with joy.
Any advice for people thinking about adding a fitness credential to support their primary health career?
Do it. It not only empowers and enriches the community around you, but it will give you skills that you can carry around for life. A better understanding of your body and the power to shape it? Yes, please. In my previous life, I was a professional photographer and graphic designer…there are a lot of ways to help people but working in a demanding field where you need no tools but the knowledge in your head and making a profound difference in people's lives as a steward of their health is just the most rewarding thing I can think of.
What does the future hold for you and for the health and fitness industry?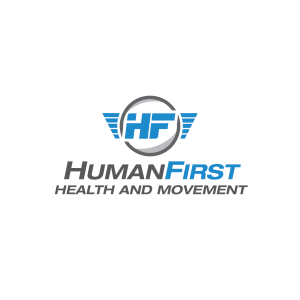 Great question! I plan to keep growing HumanFirst Health and Movement into multiple locations around the Seattle area because I think the business model really serves the patients better than the dominant paradigm currently. Plus, with the pillow and movement system ideas I'm running with, I'll have answers for improving the human experience when injured, healthy and wanting to keep it that way, or even asleep!
Is there anything else exciting you would like to share?
If anything I've said resonates with you or you just want to follow my journey, there's an app for that! Insta: @drchiropatrick and @humanfirsthealth.
If your interested in sending someone my way or visiting the clinic yourself, just visit the website! www.HumanFirstHealth.com
---