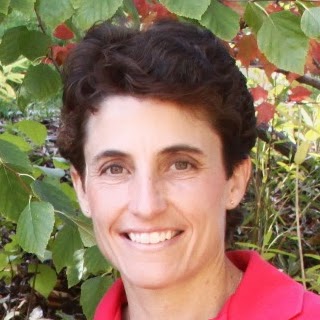 Why did you decide to become a personal trainer?
I was always involved in sports. I played tennis, volleyball, golf, softball and always loved basketball. When I was very young, I really fell in love with fitness as a sport. When my dad worked out and he would say, "Hey! Why don't you work out with me?" So that was my start. Later I played collegiate basketball. As an All-Conference guard for the University of Utah and WNBA free-agent invitee, I was pretty heavily immersed in the sports world. I majored in Sports broadcasting in college and worked as a sportscaster for KJZZ Utah Jazz station and KSL TV. Having children made that industry difficult to work in.

The television industry is go, go, go. I wanted more time to be a mom. And while I enjoyed the sports world and even my own fitness endeavors, I wasn't using it to help people. I needed to use my knowledge and experience to help others. I asked myself, "What can I do that I can choose my own hours and make my own schedule around kids, but also make an impact on people's lives?" That's when I realized I wanted to become a certified personal trainer. I was in my mid-30s at the time. Wish I'd thought of it sooner!
Why did you choose the NFPT and how long have you been certified with them?
Ten years ago I spent hours looking at all the organizations. I picked the one I thought was the best. The NFPT seemed the most professional, I liked the process of certification and continuing ed. I did the research and said, "This is the one."
What is the biggest challenge for you as a personal trainer?
Marketing and advertising myself, for sure. I don't like to talk about myself or brag. A lot of social media today seems to shout, "Look at me!" That's not me. I have a hard time figuring out how to put myself out there without compromising that.
I'd love to have a marketing person. I got magnets made, but that's about it! My sons tell me how to promote myself on Instagram and I say, "I'm not going to do that!" With the recent Facebook breach, I took myself off of the platform altogether for a while and they yelled at me! I got back on it recently to promote classes I am offering and I had to acknowledge that they got so much more exposure than my email blasts or word of mouth. I see the value, I just need help utilizing it in a way I feel comfortable with.
You played collegiate basketball–do you still play, or work your experiences into fitness training?
Outside of personal training, I do also coach basketball. I hold clinics for all ages all year round. I even paved a part of my yard and put up a hoop so I could conveniently offer coaching lessons. I coached my boys in various sports while they were growing up. When they were in junior high they just wanted to do basketball. I became more involved in coaching them and other kids. At first, I had friends who asked me to help as an assistant coach. But I knew, If I'm going to do this I want to be head coach.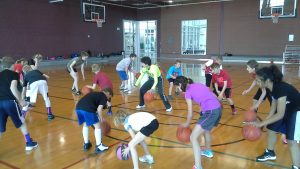 Recently an opening at a local high school for head coach of girls basketball presented itself. I wasn't sure how I felt about diving in, but I applied just to say I did. They called and interviewed me the next day and offered me the job. I just started doing this last year and have really been enjoying it.
What is your biggest accomplishment in the fitness industry?
I've helped a lot of clients reach their goal to become healthier, lose weight and feel good. One client stands out for me—an older man in his 80s, first came to me after a stroke and was walking with a cane. I watched how he walked and told him one day, "You don't really need that cane." I started hiding it during our sessions, and he'd walk all around looking for it. Sometimes he'd forget it altogether and leave without it. It got to the point where he started showing up without his cane. He didn't use it for years, until recently when he had a health setback.
What about the books you published?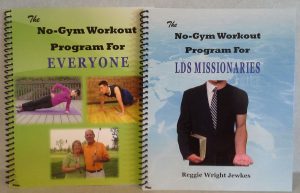 My boys always loved to workout. My older son was going to serve a Church mission and was getting ready to leave. I told him, "I'm going to write exercises for you to do so you can stay healthy and strong!" I spend a few hours on it, I get it done. I give it to him. Then I'm looking at it and thinking, "You're not the only one who can benefit from this."
So, I decided I'm going to make it a proper manual. I told my son he was going to be my model. I took his pictures, for each of exercises, and included articles and routines. I did create the manual with missionaries in mind since they only get 30 minutes a day to work out.
I knew it had to include quick, functional training, working several muscles simultaneously. The primary equipment is resistance bands and a jump rope so it's "packable". It's called, "The No Gym Workout program for LDS Missionaries". It was available on Amazon for a while, but I sold it mainly to the missionaries in my community.
I decided I didn't want the word "missionaries" to discourage others who might be interested in the no-gym workout from purchasing it, so I edited it a bit and marketed a version for "everyone":
What has been your most rewarding experience as a personal trainer?
Seeing my clients reach their goals. Pushing them to do what they think they couldn't do. And when they do, they are so happy and proud of themselves. I'm everyone's cheerleader, when I teach someone a shot and they do it in a game, I'm happier than they are. Same goes for my clients; I encourage them and cheer them on. That's rewarding to me, makes it all worth it.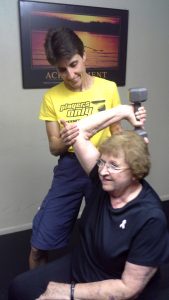 I spend time coaching at an independent senior living community both personal training and leading senior fitness classes. I have to push them because they need someone to push them and inspire the confidence that they can do it. And they do it! Many of them are over 80 but working so hard and sweating. I love that.
I love seeing the older folks I work with pushing themselves and working hard and without complaining. I pointed that out to my senior fitness class one time, and a sassy lady responded, "That's because we took care of ourselves all of these years." The youngest person in that class was 72.
I also designed a "Brain Fitness" class for the folks in this community. Basically, I think of games or activities where they are forced to challenge their brains. I teach them sign language, lists of things they have to remember and repeat back. Or read a story and ask questions, even color-by-numbers. It's been wonderful. I learn a lot about each person. They all vary, depending on their background. But they all have fun! It's supposed to be a half hour class but sometimes I lose track of time and goes on for an hour.
Often, I even have them do a little exercise before class. Things like ladder drills, squats and coordinated movements to challenge their balance, agility and gross motor skills.
Any advice for people thinking about a career in fitness?
If you like helping people and making them happy and feeling better about themselves, and you want to be rewarded for that, it's a great business. Simple as that! And you're helping them in a good, healthy positive way. If you can change lifestyles early on then you're helping to put good habits in place for life.
What does the future hold for you and for the fitness industry?
I just opened a new facility for my clients. I've been training in rec centers, and in my own house and grew tired of that. I'd been looking for a place but decided to rent out space that my parents actually own for costume and set storage. I only just opened last month. It's advertised as a private gym, so really I am just training clients and holding classes when I can fit them into my schedule.
What kind of classes do you teach?
I  teach self-defense, and hybrid class I came up with that I call "Yo-Chi-Gong", a blend of yoga, ta'i chi and qi gong. So far I've been successful filling the classes by promoting them on Facebook!
Follow Coach Reg on Facebook or learn more about her coaching out of Salt Lake City, UT on her website: http://www.playersonlybasketball.com/