I have been into fitness for over 10 years and always had a passion for moving the body and feeling great! I became serious about fitness during college, after I was diagnosed with illness, Mono, (as a result of being run down and neglecting my health). My doctor recommended to ease myself back into exercise in order to build up my immunity again. This was the best medicine I could have asked for.
After returning to school in good health, I eventually finished my Bachelor's. Because health became my passion, I thought my next goal should eventually be attaining a tangible "seal of certification". After doing thorough homework and researching all  major fitness schools, I decided to go through NFPT.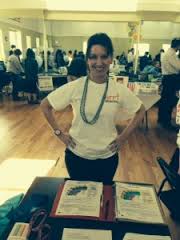 For me, the pros of NFPT outweighed the others. They were very accommodating and understood that each student is different. The program allows various options for studying and payment methods. What really made NFPT a cut above the rest was their affordability and national accreditation, so you can utilize it anywhere in the country.
Most of the people I have worked with have been females who I enjoy sharing fitness advice with. I have learned so much from NFPT, but one tip that stands out, is the stereotype that you must be a hardcore bodybuilder to train. NOT true. For those who graduated, you know flexibility is the most important factor which allows someone to exercise more efficiently. Just one of the tips I learned through NFPT instruction!
My advice to trainers who are "shopping around" for certification, is to speak to the customer service staff. NFPT has excellent service, very accessible, and explains  different options you can choose from. What I really have liked about NFPT is that unlike many schools, they will not just drop you once you complete their program. They realize learning is an ongoing process for all parties involved.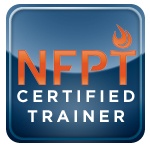 I would also recommend speaking to various gyms and their trainers. One piece of advice that stayed the same across the board was to ensure your certification is nationally accredited. Also, expensive programs really aren't a factor in the fitness industry.   Bottom line, fitness employers will look at whether or not you graduated and what you learned for fitness.
Currently, I do personal training part-time. I'm not sure if I would enjoy it as much full-time, as it may become more of a "chore" than my passion! However, with personal training there are so many great avenues to take and the ball is in your court. Your health is your wealth!