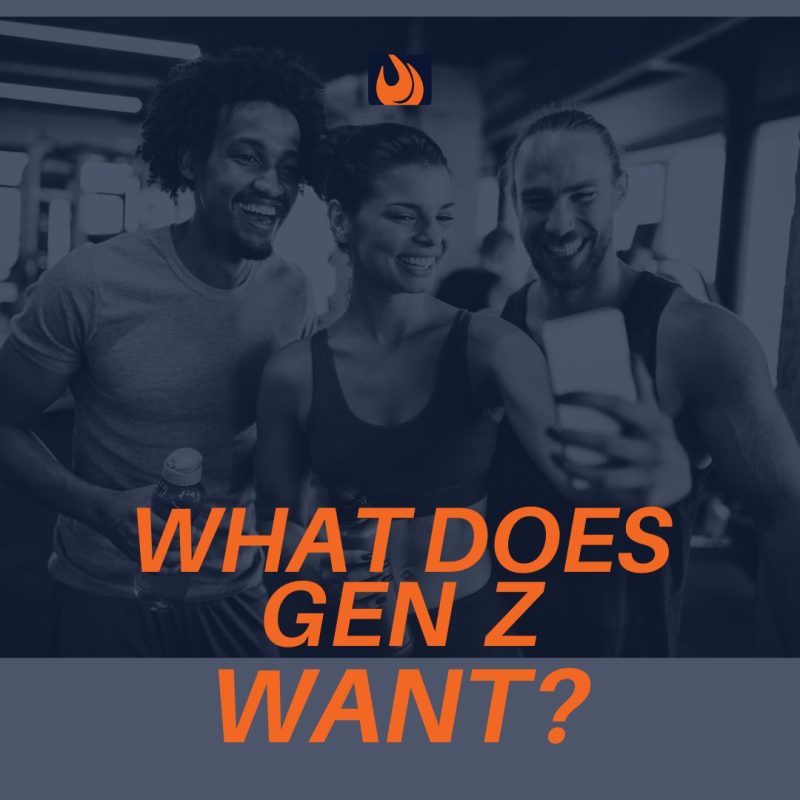 In 2023 Les Mills Gen Z conducted a study titled, "Gen Z Fitness: Cracking the Code" based on a survey of over 4,000 Gen Z consumers from the United States, UK, Germany, and China. The participants were surveyed on their perceptions, attitudes, and motivations for wellness, exercise, the gym, and other related topics. The results provide powerful insight, mainly for gym operators, fitness companies, and personal trainers. What they found shows the huge opportunity that personal trainers have to impact Generation Z–which includes those born between 1996 and 2010. 
From this study, at least three overarching trends that are relevant to personal trainers can be identified. This generation values science-driven fitness, wants community to be a part of their fitness journey, and expects digital integration. With 50% of Gen Z ready to enter the fitness market, personal trainers have huge prospects awaiting. 
Science-Driven Fitness
Gen Z doesn't just see personal trainers and instructors as fitness experts, but rather, as resources that bring gyms credibility, sifters of mass information, and beacons of community. The guidance offered by personal trainers draws Gen Z  due to the influx of confusing and inundating exercise information online. 
As digital natives, Gen Z innately knows how to access and investigate information on their smartphones. With that comes a lot of confusion when it comes to fitness. Gen Z says personal trainers bring more credibility to the gyms because they appreciate the guidance and "science underpinning their programming." 
Gyms should capitalize on this by maintaining high standards for their personal training team when it comes to delivering science-backed programming. Gyms can create a science-backed environment for their Gen Z member by:
Offering professional development

to their personal trainers and fitness instructors

Promoting credible information

on carousel displays, such as informative materials of studies that can educate members on the science behind various exercises, training techniques, and their benefits

Hosting educational workshops

or seminars on popular fitness topics to educate members on the science behind various exercises, training techniques, and their benefits

Collaborating with health professionals

establish partnerships with healthcare professionals, such as physiotherapists, nutritionists, or sports medicine experts
Gen Z wants to see gyms promote their trainers as not just typical fitness experts, but influencers. With the high degree of social media usage Gen-Z engages in, gyms should create opportunities for their fitness professionals to share their own and create in-house social media content with their own instructors and include their Gen-Z customers in such content with the instructors. 
The inclusion of Gen Z in social media content with their gym's personal trainers highlights a sense of community and belonging, traits that Gen Z strongly values. It must be remembered that sociability and community are driving factors that Gen Z finds appealing. Thus, it is crucial that gyms invest in training their fitness professionals to facilitate community with members.
The Les Mills Gen Z study directly encourages gyms to ask "top Instructors to promote their classes on social media – showcasing content from high-energy, busy workouts – allows those new to the studio to get a glimpse of what to expect, encouraging them to graduate from at-home workouts to the full live experience". 
To increase participation, 64% of Gen Z are "keen to try taster sessions", which can practically amount to free or very low-cost, sampler programming such as:
Personal trainer demos or consultations for gym users to engage with personal trainers

Introductory passes or trials for group fitness classes

Equipment orientations in January to teach beginners how to use gym equipment safely and effectively

Wellness or health assessments to help users understand their starting point and set realistic goals

Social events or fitness challenges to encourage interaction and foster a sense of community among new and existing members
Creating Community
This generation seeks two things that are both wellness-related:
1)to be a part of a community
2) to become fitter, both physically and mentally.
The Les Mills Gen Z respondents cite that community is what sustains their workout habits. Of those surveyed, 41% like working out to great music. Gyms should always have great music and support their trainers with the resources to play awesome tunes. 
As far as the untapped market goes, or the 50% of Gen Z who are either ready or thinking about working out, two-thirds rate community as their top expectation. Personal trainers should remember not just to provide an effective science-backed workout but to pursue a professional and friendly relationship with their Gen Z clients. Connect them to group exercise classes where they can meet others. 
Digital Integration and Technology in Fitness
Gen Z heavily integrates technology into their fitness routines. They expect digital solutions to support their fitness goals. They prefer using apps to monitor progress and track workouts, and they highly value the convenience and flexibility of digital platforms for workout choices and accessibility.
This generation is ready to adopt paid fitness apps, with 44% of regular exercisers already using paid apps, showcasing a willingness to invest in technology that aids their fitness journey. Furthermore, this generation is eager to use free fitness apps. This generation values exercise programming and analyzes data on the apps they use. With the data collected and analyzed by various fitness, users can find more motivation to continue working hard or have the insight to change their routine.
Gyms and independent personal trainers alike should invest in technology that their trainers can use in sessions with clients to track and measure their clients' progress. Gyms should also create an opportunity for personal trainers to digitally submit their clients' workouts into software that can track progress. 
This could look like a higher-tiered training package allowing the personal trainer to be compensated for their time to enter client data post-workout. Another way this idea can happen without a price increase is by giving personal trainers the resources and space to track client progress online. This could be a company iPad or a small stand-up workstation in the studio where personal trainers could enter data during client workouts. 
Most personal training clients need help remembering all the exercises they performed with their trainer. This is a challenge because many clients wish to practice what they learned on their own time in the gym. Unfortunately, this leads to less exercise time. However, personal trainers can leverage apps to log their clients' workouts that include gifs or short videos of the exercises performed. 
In sum, the Les Mills Gen Z study tells us that this generation doesn't need to be convinced to incorporate their phones and technology into their workouts. Many Gen Z are introduced to fitness through technology on their phones. Both independent and gym personal trainers should invest in integrating technology into their clients' workouts because that's what Gen Z wants.
This can look like:
Exercise motion capture analysis apps that slow down movement and have draw-in line and angle features and can be shared with clients to correct their form

Workout log apps with built-in features to estimate one repetition maxes, total volume lifted per workout, sets per body group, etc

In-house gym apps that personal trainers can add their clients to track activity, instill accountability and encouragement, and promote community with other users

Science-backed fitness and movement assessments that involve tools and technology

Apps with videos of exercises that clients learn
What We Learned from the Les Mills Gen Z Study
In conclusion, the Les Mills Gen Z study sheds light on the influential role personal trainers and fitness professionals play in shaping the fitness landscape for the upcoming generation. As Gen Z emerges as a demographic eager for knowledge-driven workouts, community integration, and seamless technological alignment in their fitness routines, the study underlines the pivotal opportunity for trainers and gyms to adapt and excel in meeting these expectations.
Understanding the three key trends highlighted—demand for science-backed fitness, the craving for community-driven workouts, and the imperative of digital integration—personal trainers can strategically tailor their services to better cater to Gen Z's needs.
Learn more in our Functional Training Specialist as a part of our Continuing Education Course Series.