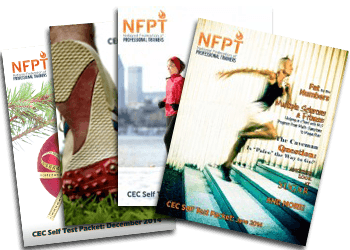 One of the best aspects of getting certified through the NFPT (National Federation of Professional Trainers) is the free continuing education credits that are available to our CPTs directly through our organization. Among these free CEC opportunities are self-tests available directly through the NFPT account.
What are Self-Tests?
'Self-Tests' with NFPT are free and optional Continuing Education Credit (CEC) opportunities that NFPT provides for their trainers twice a year. NFPT's Self-Tests are based on monthly educational articles that are published through the NFPT Blog and consist of between 35-45 questions per test. The continuing education articles, that the Self-Test questions are based around, are published for the purpose of reinforcing trainer knowledge and keeping current with the trends of an ever-changing health and fitness industry.
How many CECs are Self-Tests worth?
Self Tests are worth 0.6 CECs.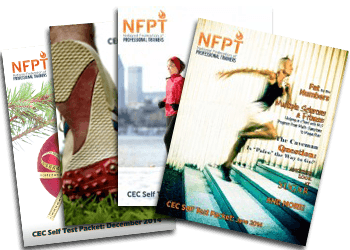 And they're really free…?
Yes, of course! We at NFPT value our trainer's time, money, and education. We want you to be able to get your annual Continuing Education Credits done in a timely manner and without nickel and dime-ing you. That's why we offer our Self-Tests for free, along with a slew of other opportunities including Fitness Flops and the Trainer CE Refresher Quiz.
When can I take Self-Tests?
We release two (2) every year; once in June and another in December. But, you can take them at any time during the year that they are available.
I have only been certified for a couple of years, does that mean I missed out on previous Tests?
Actually, you are able to take any and all Self-Tests that are available in your NFPT account, even those from previous years.
Where can I take the available Tests?
From your NFPT Account. Log in and these are available under the 'Continuing Education' section.
How many times can I take them?
You can take it as many times as you need to pass it. That doesn't mean you shouldn't prepare for it though. Who's got time to keep re-taking a test over and over again?
How many Self-Tests can I take?
You can take as many as are available for you to take. If you missed some in previous years and they are available in your NFPT account, feel free to backtrack and take those previous year's tests!
What do I need to get to pass it?
When you score at least 80% or better you will pass.
Is there a time limit?
There is no time limit and you can feel free to stop in the middle of taking one and come back to it later if you have to.
Are you NOT an NFPT Certified Personal Trainer, YET??