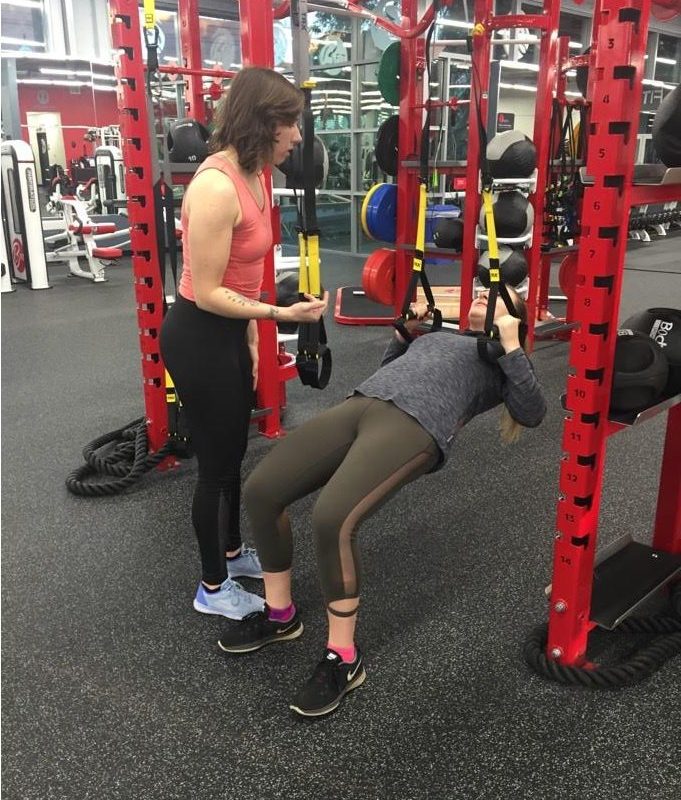 If you ever wanted to be a mobile trainer 25-year-old Alea Martinez is one to learn from. After just 6 months of mobile training, she's already got a second trainer on board (Nick Young) and a 1,000 square foot storefront in progress to run group fitness classes. 
Alea's mobile training business is called My Fit and is helping people in the city of Tigard, Oregon get into shape more conveniently. Alea brings fitness to people where ever they are in her blue Nissan Versa. She also plans to restore an old bus in the future to provide a truly unique training experience. Party bus will take on a whole new meaning!
Alea has been certified with NFPT since June 2017 after taking a workshop with Felix Doval, an NFPT educator. She works with 12-13 clients a day, in 30-minute sessions. She says, "It's a long day working 8:30 am-8: 30 pm but it's worth it changing people's lives." 
What is mobile training?
Alea says, "Are you stuck in back to back meetings? Want to avoid traffic? I come to you. I work you out." Alea goes client to client and works out with them in any space they have access to. 
Mobile training is The Uber of Fitness according to Alea.
Also in Alea's words: "Being a mobile trainer means no overhead – minimal investment to get started. It's cost-effective and convenient. You have control over your schedule. I love the flexibility with no office hours. I work on an as needed appointment basis. And I'm never waiting around."
Alea's Mobile Mission is to Change People's
Lives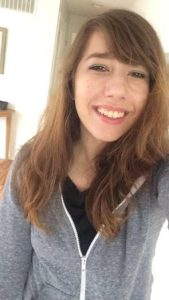 Alea says, "I want people to feel like family and feel safe. I want to build a community." Alea intends to provide people a high quality, truly personal experience that educates them beyond the workout and spreads to their family. She stays away from cookie cutter systems or workouts. 
Alea's 1st session is always a soft meet and greet. It's a full hour. She says, "The reason for this is because personal training is an intimate experience. There is sweat and discomfort involved."
Alea performs assessments for upper body strength push-ups), lower body, core, cardiovascular and stability. She likes to set up expectations in the first visit.
Clients can purchase singles sessions or multiples to be more cost-effective. Her monthly pricing package is a 6-month minimum and gets the price point lowest. Alea finds that people get better results the longer the term.
Mobile Marketing
Alea is getting a website up soon and plans to work with a local news station to get publicity. Nick Young, Alea's new partner has a social media, branding, marketing, advertising background. He is ACSM certified. Alea says Nick is a great asset, a lot of fun, and a phenomenal trainer. They currently pool the money and distribute it between them.
What's in a name?
Recently Alea changed her business name from Muscle by Martinez to My Fit. Alea says that people like the new name better, it's shorter, easier to remember. The muscle name seemed to ego driven. Alea said, "I'm badass and strong but don't want it to be intimidating."
MyFit gets people to take ownership of themselves. It's easy and simple.
Stories Sell Fitness
Passion often stems from personal fitness experiences. Alea started her fitness journey on a military base at 215 lbs. – 4 years ago. She was not in the right mindset, not in shape and in a horrible marriage. Alea dropped 100 lbs. and added muscle. She says, "Now it's my job to share that with people."
After getting divorced Alea decided to take fitness to the next level. The gym was all she had. She made friends there. Her friends were her first clients, asking for help. Then she went to school and got certified.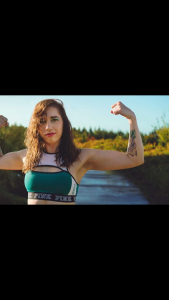 Alea says, "People are capable of more than they realize. I want to empower them. I was always awkward with zits and bad hair growing up. Going to a military gym was scary, but I showed up every day and ignored the judgments. I told myself I had been miserable for too long. I didn't want to keep making excuses. I was fed up, I had a breaking point. I was at my heaviest, my marriage wasn't going anywhere, I didn't have a career. I said yes to many things in my life and finally gave myself permission to say yes to being healthy and be a gym person and taking control of my health and ownership of my life. No apologies. Just do it."
One of Alea's greatest trainer moments
"I had a client who could never jog or run and was always overweight. She didn't know anything about fitness. Started a couple times a month. Recently she entered a challenge that I had for my clients. She chose to compete in the one-mile challenge. She walked at 22 min. 40 sec. – 20 min. 22 sec. – 18 min. 40sec. at a jog. I felt so excited and proud of her like a parent would. This client cried and was emotional about this achievement. The client said you changed my life."
What Alea did before she went mobile
Alea was a medical assistant 5-6 years ago. This work taught her how to care for people who aren't well and not judge them. It allowed her to be adaptive as a personal trainer. She also learned a lot about emergency preparedness.
Alea was mostly self-taught in fitness. But she did work at Orange Theory Fitness then LA Fitness (PT director Portland). She was a head trainer at BeFit Gym.
Advice for people thinking about a career in fitness

Find out what makes you-you. My success came from me not even trying excel. Just me being me and telling my story.
Also….
What you put out into the world is what people take and run with.

Know who you are, p

eople can tell if you don't.

If you are passionate and care it will show.

Be true to yourselves and your clients, admit it if you don't know something.

Trust your gut.

Trust your confidence.

Know what you know.
The future of the fitness industry will be digital, online, and all about convenience. People are busy. Getting to an appointment isn't realistic for most people. Apps will be at the forefront. 
Have you considered mobile training? If you're an NFPT trainer, join the Facebook Community Group to chat with NFPT and other trainers. If you're not certified yet, come talk with NFPT here, we would like to meet you![/info]