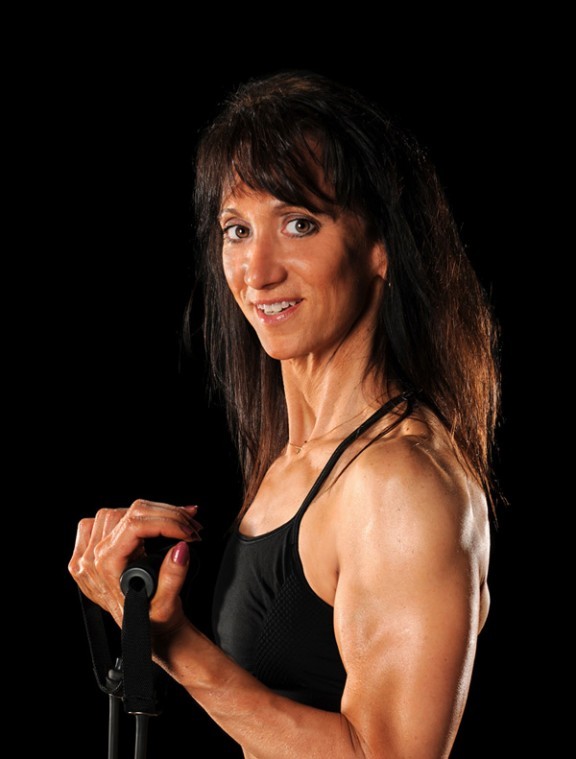 Cathleen is a subject matter expert and author for NFPT who has been in the fitness industry for close to 30 years. She is certified by AFAA as a Primary Group Exercise Instructor, by ACE as a Health Coach, and by NSCA as a Personal Trainer. Cathleen candidly shares her story about anorexia, bodybuilding, and being a fitness professional in this interview.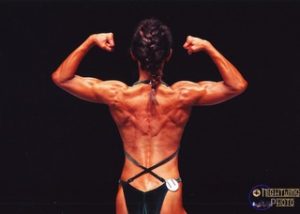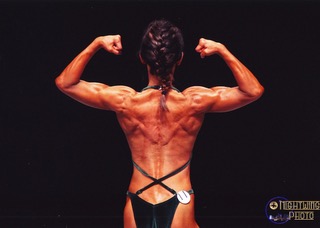 From Microbiology to Aerobics
My degree is in Microbiology, and I loved doing lab work and research for several years. However, the hours became a bit of a challenge when my first daughter was born. This was when I embarked upon teaching aerobics and earned my first certification.
I danced as a child – ballet, tap, and jazz. Dance appealed to me as a way of blending choreography with the cardio-related aspects of exercise. It was only after I entered the competitive
bodybuilding realm that I decided to add personal training to my career. Health Coaching came about a few years later.
What I love about training is being able to meet clients of all ages, each with unique goals and challenges, and join them on a journey toward improved wellness. Their successes are
so meaningful to me. Knowing they have selected me to be a part of their process is very empowering and propels me forward. I have also been blessed along the way to meet clients who have become dear friends.
The biggest challenge in the personal training world is learning to adapt to a variety of client learning styles, capabilities and personality traits is a constant challenge. Whether it is my first or fourth client of the morning, each deserves 100% of my attention and spirited energy. Some days it is more difficult than others to be "on" all day, but by the time I head home, I feel blessed to have had an opportunity to touch so many lives.
Anorexia and Bodybuilding
In 2000, I was struggling with anorexia and needed the help of a residential treatment center and a feeding tube. It was only after my release and turning to natural bodybuilding as an incentive to eat in order to gain lean muscle, that my life began to shift.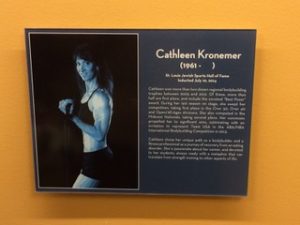 Stepping onto the competitive stage for the first time at age 44, I was still the smallest woman on stage, but a lean physique worked in my favor. I participated in 12 competitions, including Nationals, and have been blessed with 24 trophies, more than half of which are 1st Place.
A particularly exciting moment for me was winning the "Best Poser Award" at one of these competitions! Another huge lifetime achievement was being inducted into the St. Louis Jewish Sports Hall of Fame a few years ago. This honor is awarded to individuals who exemplify leadership within the Jewish community, promote fitness/health/wellness throughout the community, have received national recognition, and demonstrate a passion for the fitness-related aspects of their own lives. I have appeared on television news programs, in various magazines and websites, and in the newspaper as a result of striving to go from anorexia to successful bodybuilder. I also embarked upon a writing career and have written for many industry-related publications.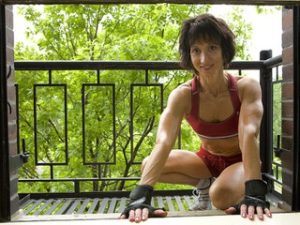 A memorable rewarding experience occurred shortly after I began training a woman who had been diagnosed years prior with Multiple Sclerosis. One day
she came to our session and told me that for the first time since being diagnosed, she was able to put on her pants without holding on to the dresser. She played it down as a minor achievement; I had tears in my eyes
because to me it represented a huge step in her balance/coordination skills!
When I told my boss the story, he smiled and said, "This is why we do what we do." Truer words have never been spoken. Another significant event that will forever be etched in my memory was being the first responder to an 85-year-old man who had dropped on the court during a racquetball game. It was the first time I had ever performed CPR, a certification required at my gym for all trainers. This sort of experience changed my life…and extended Jordan's. He survived, and we just celebrated our "5-year anniversary" as he turned 90. These are the sorts of gifts that my career as a personal trainer
has given me.
The best advice I received prior to taking the personal trainer exam came from another trainer. She told me, 'Clients don't care how much you know, as long as they know how much you care." This adage has proven itself many times over during my career. Many trainers get caught up in gathering certification after certification, only to end up "book-learned" but often unable to pass along that knowledge when called upon to do so. Care, compassion, attention to detail, and follow-through make a client feel truly valued. That is always my goal.
My future is up in the air at the moment, due to family obligations. Eventually,
we hope to relocate to a warmer climate. Once settled there, I hope to continue training, perhaps keep teaching a few classes, of course, continue my writing, and offer public speaking engagements to the senior members of the community.
My goal would be to offer seminars on topics along the lines of maintaining/achieving wellness as we age, nutritional needs of seniors who are active, extolling the virtues of all types of exercise that can be adapted to those living with illness or physical limitations, and even basic exercises for those living with dementia and their caregivers. I have done this sort of thing here in St. Louis and it has been well received and a lot of fun. If I am blessed with continued health and mobility, this is how I envision my future!
Could you be an NFPT Trainer Spotlight? Click Here to learn how.